Valentina Cervi (born 13 April 1976) is an Italian film and television actress.
Cervi was born in Rome, Italy. She is the daughter of director Tonino Cervi and granddaughter of the famous Italian actor Gino Cervi. Cervi started her acting career at age ten in Carlo Cotti's 1986 film Portami la luna. She also played an English-language role in Jane Campion's 1996 The Portrait of a Lady.
One of her most acclaimed roles was the lead in the 1997 film Artemisia, directed by Agnès Merlet. It was loosely based on the painter Artemisia Gentileschi's life, but controversially portrayed the relationship between Agostino Tassi (played by Miki Manojlović) and Artemisia as a passionate affair rather than as rape.
In 2011, she appeared as Arianna in BBC TV's Italian detective mini-series Zen. The London Times commenting on her role as follows: "Zen (Rufus Sewell) need only walk into a Lavazzatore for B-movie-rank Gina Lollo to press her amples into his chest. An interview with one courtesan [Cervi] was conducted ... with her in bra and fishnets, the interrogation interrupted by the command 'zip' as he dressed and undressed her". She also appeared as "Valentina" in Canale 5's series Distretto di Polizia in 2011.
Cervi appeared as Bertha in Cary Fukunaga's 2011 film adaptation of Jane Eyre. She was cast as the ancient vampire Salome in the HBO television drama True Blood.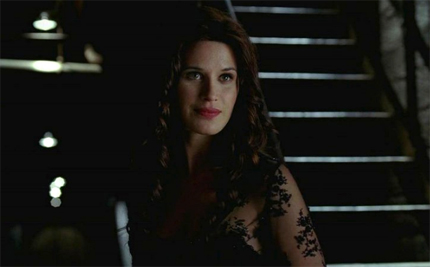 Selected filmography
Acting filmography
Portami la luna (1986)
Mignon è' Partita (1998)
Oasi (1994)
Claudia
Escoriandoli (1996)
Sabrina
The Portrait of a Lady (1996)
Pansy Osmond
Artemisia (1997)
Artemisia Gentileschi
Figli Di Annibale (1998)
Rita
La Via Degli Angeli (1999)
Ines
Five Seconds to Spare (1999)

Rien sur Robert

(1999)
Aurélie
Branchie (1999)
Livia
Quando si chiudono gli occhi (2000)
Lisa
James Dean (2001)
Pier Angeli
Hotel (2001)
Hotel Maid
Anima gemella, L (aka Soul Mate) (2002)
Teresa
Lena: The Bride of Ice (2003)
Lena
Passato prossimo (aka Past Perfect) (2003)
Carola
Sansa (2003)
The Tulse Luper Suitcases: Part 1: The Moab Story (2003)
Cissie Colpitts
The Tulse Luper Suitcases: Part 3: From Sark to the Finish (2003)
Cissie Colpitts
The Tulse Luper Suitcases, Part 2: Vaux to the Sea (2004)
Cissie Colpitts
Tempesta (2004)
Dina Gusmano
Provincia meccanica (2005)
Silvia
War and Peace – TV mini-series (2007)

Marja Bolkonsky

Vizio dell'amore, Il – TV series (2008)
Miracle at St. Anna (2008)
Renata
Zen – TV mini-series (2011)
Arianna
Jane Eyre (2011)
Bertha Antonietta Mason
True Blood (2012)
Salome Agrippa